SPECIAL CONGRATULATIONS TO THE FOLLOWING COMPETITORS
WHO HAVE DISTINGUISHED THEMSELVES
IN NATIONAL COMPETITION.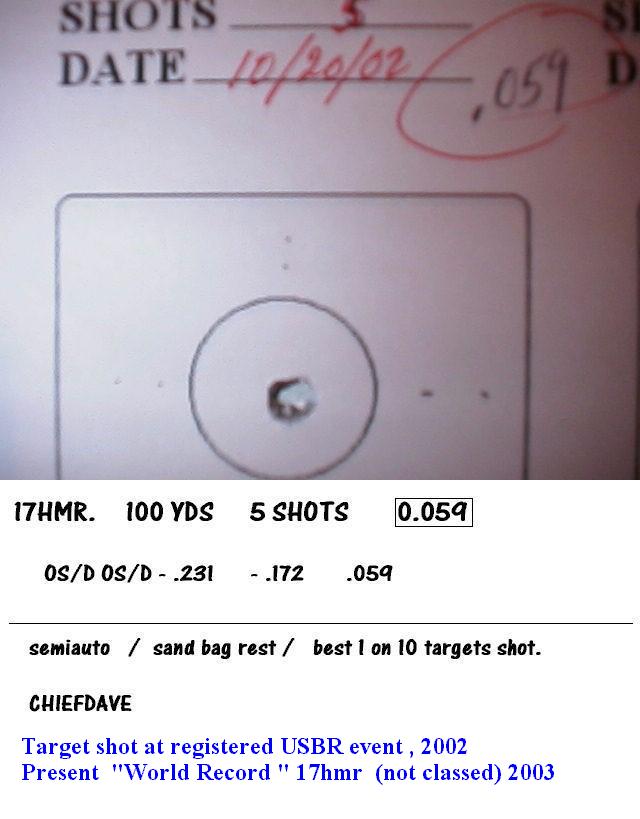 01/14/2003
Internet Message From:
ichiefdave@yahoo.com
Greetings from ChiefDave.
A thank you , for a great product. (WIPE-OUT) bore cleaner. I am a rifle builder and shooter , mainly rimfire semiautos. I have been using Wipe-Out for about 3 years. Recently I shot a world record target with a Volquartsen actioned 10-17HMR semi-auto .
The group was scored at .059″ 5 shots @ 100 yds. I attribute the accuracy of this rifle , mainly to the bore quality.
The credit must also go to the cleaning chemicals (Wipe-Out) to have made this possible.
I also frequent a web-site " RIMFIRE CENTRAL " where I endorse and encourage others to buy this amazing product.
I hope you don't object.
Sincerely . Chief Dave
================================================================================================
Dear Dave:
I was wondering if you might be able to get me a picture of you, your rifle  and your target………plus the particulars where the record was shot. I
would like to post the information and your comments on my web site. Please let  me know your thoughts.
Best regards,
Terry Paul
==========================================================================================
Chief Says : I would be honored to have my pics on your site. 2 of of 3 not bad. I dont take very good pics , so how about
the gun and target ? Volquartsen LTD has the target posted on their site also. The site I frequent the most Rimfire Central , is strictly a small cal.
site deticated to the 10-22 Ruger. Many members there have became aware of "Wipe-out" and are amazed at the product. It no doubt is only
a small site , but good products , like yours doesn't take long to gain respect throughout the world. I remember the first time I saw a friend
use it . I thought "'Yea ! sure ! nothins gonna beat my rod and patches and elbow exercise." I was terribly wrong.
So , like many , when I find something that really works , Cant keep mouth shut very long. Pics will follow.
Thank You : Chief Dave – Dave Snow.
p.s. The gun was fitted with a different stock (shown) soon after the record target was shot. compliments of McMillan Bros. fiberglass stocks.
thanks Chief Dave

SPECIAL CONGRATULATIONS:
TO DAVE GREEN of LOUISBURG, KANSAS.  DAVE DISTINGUISHED HIMSELF IN THE SUMMER OF 2004
BY SHOOTING A  NEW RECORD WITH HIS NEW 30 CAL. BENCH REST RIFLE.

Sent:Thurs 6/10/2004 12:38 PM
Terry,
As I promised, here is the truth, the whole truth and nothing but the truth, so help me God……….
As we had discussed on the phone the other day, I had never heard of Wipe Out or any of your other products until a visit from a friend who lives in Texas. We had been shooting his Wilson AR. Not having a clue the last time it had been cleaned (he had not seen the rifle in a year) and after about 75 rounds we thought it a good idea to run some cleaning STUFF down the bore. I  have always used Kroil – Shooters Choice and Butches to clean all of my guns. And to the best of my knowledge and what I could see on the patch, ALL OF MY BARRELS WERE CLEAN!!!!!
When my friend handed me a can of Wipe Out and told me to re-clean the gun we had just finished and all of the guns I had that were supposedly clean, my first reaction was, "ARE YOU NUTS". Why should I re-do all of them when I no there is nothing left in them but squeaky clean metal. Well I did what I was asked and to my total amazement you should have seen the crud that came out with the first patch. Not only was there fouling from God knows what but it had the nicest shade of blue you ever saw plus chunks and pieces that landed gently in my patch catcher. As you can already guess my jaw hit the floor with the force of a 50 BMG, and to add insult to injury all of the money I had spent over the last year on cleaning solutions hit me right between the eyes like a bucket of, well you get the picture.
I have been shooting for about 46 of my 50 years, and have never seen a product that was so easy to use and cleaned the way Wipe Out cleans. I think back on the countless hours of brushing moping and cussing, not to mention using enough patching material to outfit every person on the globe with a pair of full length pants and enough cleaning solution to make every dingy piece of metal ever made in Detroit shine like a new dime, I was truly shocked. Wipe Out is the most amazing product I have ever seen, There is no barrel or breech that Wipe Out will not clean. I have used it in my Varmint rifle all of my Black Powder guns my large bore guns, and even the loose change in my pocket. IT CLEANS EVERYTHING I HAVE USED IT ON.
It is my opinion that this is the best cleaning solution I have ever used!!!!!! It took the groups on my 22-250 from 1.75 to an amazing .312 at a 100 yds with just one cleaning. My Black Powder rifle (54 cal.) went from a 2.25 to a .521 at a hundred yards with just one cleaning as well. As you can see if you think your barbell needs to be replaced clean it once with Wipe Out and see the difference. I did however clean several of my guns twice because of the residue in the lands of the barbell.
Again to the folks @ Paul Co. who just made my life a more accurate place, thank you and please never run out of the truly amazing product you have….
Allen Weatherly
Colorado
I thought I would give your wipe out a little plug.  I'm in the business of killing coyotes, not in the business of endorsing or plugging the products I use  but I should give credit where credit is due.
I am a predator control specialist and my rifles are a major part of my equipment used in the daily operation of the predator control program here. Needless to say it is important to keep these rifles in top operating condition and a big part of that is keeping them clean for optimal accuracy. One of my sheep ranchers who as all sheep men do has a rifle that he keeps in his outfit 365 days a year so he can throw lead at every coyote that he sees which is mandatory for every sheep man. This rifle is a model 70 Winchester 22-250 and is not a pre 64 model but is not far from it in age.The rifle had been shot 100's of times with out being cleaned. He was going by my place here on the way to a weekend basketball tournament that his son was playing in. I asked him to leave the gun with me on the way by and pick it up on the way home. I also told him to look down the barrel before he dropped it off. Well I had the gun for 3 days. The first day I filled the barrel with wipe out and left it over night.
The next morning I ran a patch through it and it was just amazing the copper and carbon  fouling that was in that barrel. Anyways I cleaned it 2 more times with the wipe out and after the 3 rd cleaning it was spotless with no copper or carbon fouling. He stopped and picked up the gun and took it home. The next day he called and said thanks for the new gun. He said he finally could hit something wit it again and couldn't believe how clean the barrel was.
It is nice to come home at night and just take the rifle I used that day to the gun room fill it with wipe out and then a half hour later go back and run a patch or 2 through it and the gun is clean and ready to go. I just don't miss running patch after patch through the barrel to get it clean that I had to do with the previous solvents that I used.
Thanks, Wolfer
Subject:
WipeOut Bore Cleaner
Date:
2/19/2004 5:29:39 PM Central Standard Time
From:
boyd996@yahoo.com
Hello,
My name is Boyd Heaton:
I am a 1000 Yard Bench Rest Shooter and a Club Officer at the Original Pennsylvania 1000 Yard Bench Rest Club in Williamsport,PA.
I started using the WipeOut bore cleaner at the start of the 2003 season.  To say that I am pleased with your product is an understatement.
After I would fire my record string, I would put the gun on the cleaning bench. Spray the WipeOut in the bore.  Take care of my range duty's.
Then after an hour or so patch it out.  I have not put a brush down the bore since using your product. Using WipeOut I was able to take a 3rd place
in the 16.5 pound group agg's.10 targets for a 100 shot agg of 10.44 inch's.  A 6th place in the 10 match(100shot) score agg with a 87.200.
And a 3rd place in the 6 match score agg with a 93.833.  I can say without a doubt. That without the ease of using your product, and the time
it saved me by doing the work for me.  I would not have placed as well as I did….
Thank You……..Boyd Heaton
Boyd Heaton
Pit Chairman.
The Original Pennsylvania 1000 yard Bench Rest Club.
Williamsport.PA.
THE REST OF THIS PAGE IS DEDICATED:
TO THOSE OF YOU WHO TOOK THE TIME TO SHARE WITH US THE RESULTS YOU HAD USING WIPE-OUT
12/14/2014 9:26 PM
Reed McGregor
reed_mcgregor@yahoo.com
SUBJECT: I'll Never Use another product
Hi,
You might recall we spoke a few weeks ago. I got a can of WipeOut at the Bullet Hole and here are the results. The 1st photo shows patches from my WipeOut Challenge cleaning of a rifle I "knew" was clean and unfired for several years (that rifle just celebrated its 100th birthday this year!). I was amazed at how much material I was able to get out of that bore. The next two photos show 'before' and 'after' groups from another rifle after pillar bedding and WipeOut cleaning. Again, a "clean" bore was not-so-clean after all and the improvement is dramatic. Even a SS rifle barrel is now looking nearly brand new. There is no doubt in my mind your product is far superior to the solvents and cleaners I've used for decades. I'm going to buy several cans for Christmas and birthday gifts too! I'm also going to be looking for other products, like your lubricants. They sound ideal for AR's and pistols.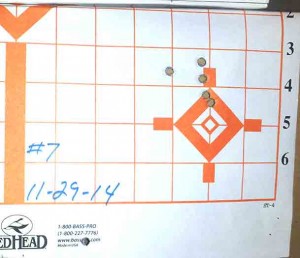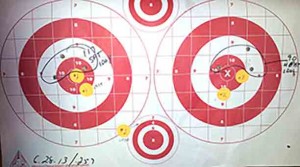 Sent:2/23/2004
Subject:Wipe-Out Initial Use
Hi Terry:
I'll relate to you our discussion on the phone regarding the use of Wipe
Out.  As the original skeptic when it comes to bore cleaners, I decided to
give your product a test that would show what it was 'really made of'.  I
have a Remington Model 660 in 350 REM MAG that has been the very fires of
Hell to clean the copper fouling out of.  The gun is accurate, but the
barrel has looked like the skin or an orange  in both texture and color –
for some time.  I have tried Sweet's 7.62, CR-10, every bore cleaner known
to man and J-B Bore Paste, all with varying degrees of 'no-success'.  I
thought this barrel would be the ideal test for Wipe Out.
I applied the cleaner as instructed and waited overnight.  The next morning
I noticed a blue puddle in the dish I put under the muzzle.  A patch through
the bore came out almost gelatinous with navy blue color.  Inspecting the
bore revealed two lands with just the most minute amounts of copper.  I was
absolutely stunned!  I applied the cleaner again and repeated the patching
process the next morning.  A minute trace of blue was present.  Inspection
revealed that the bore was completely free of all copper fouling.  Had I
been told this, I probably wouldn't have believed it.
Suffice it to say, Wipe Out works and now is the ONLY bore cleaner on my
bench.  And probably the biggest personal benefit for me is its
non-toxicity.  As you are aware I have a serious health problem and am very
careful with any chemical compounds I breath or touch.
Best Regards,
Shep Kelly
Author, Firearms Industry Consultant, retired from Federal Cartridge Company.
Sent Date: 03/07/2004
From: Roy Kilss
To: tppaco
Subject: That Stuff in the Can !
You may remember when I visited at the ranch in September 2002.
After I asked Terry, a friend of about 20 years, what new project he was
working on, he demonstrated the "Wipe Out". I saw in the barrel the copper coating of a
bullet dissolve in a matter of minutes. I was fairly impressed and tried it
myself when I got back to Virginia. Of course on everything that I owned.
I also spoke with a gunsmith friend of mine (Harald Octenik) whom we worked with
at H&K and Sigarms. I went to Haralds place to have him put the stuff to the kind of
testing that a guy with his credentials can think up. Harald also was duly impressed
that the product worked without the traditional, endless scrub and rub of brushes and
solvent. After Harald talked me out of one of the cans.
I decided to continue my testing at home. I found an old, soon to be discarded, coffee cup
and tried it myself on a .22 LR caliber bullet. Same thing happened. Within a few minutes
the foam turned blue and the copper was gone. I walked away from it an came back about a week
later and discovered the bullet was flaking and cracking. The integrity of the bullet was gone
it was falling apart.
I squirted it some more, walked away, and forgot about it for a few weeks.
I moved some stuff around on the work bench and "found" the cup again.
The lead was dissolving into small black flakes. "Wipe Out" works.
The best part is the total absence of any offensive odor.  Cleaning without GAS MASKS !
More importantly, I found out using "Wipe Out " that it really is skin friendly.
Active people are going to get cuts abrasions and open wounds and I noticed no irritation.
"Wipe Out" and it's related products won't wreak havoc on the user's skin.
It's just a good product. Thank you Terry!
Roy Kilss,
former Sales Manager of Sigarms & J.P.Sauer & Sohn USA
former Marketing Manager of Heckler & Koch
How's that? Never hurts to tell the truth.
Sent:Sun 3/21/2004 3:28 PM
SUBJECT: SHAVING CREAM
Terry,,,,, Have used your product extensively and I am amazed how it cleans copper out
of a barrel….Two new Kriegers came clean with amazing speed with a high grade bore scope
check. A worn match grade barrel cleans equally fast and indeed way past what I thought
was clean….1000 yd accuracy the best yet, and I was ready to replace the barrel!
A new Sendero stainless barrel has had fast removal of copper.  The accelerator made a
difference I could see.    Yes, I let it soak overnight  each time with repeats. Got to the
bottom of the carbon without a final bronze brush, but then it DID come out!
Great product, especially for the biggest problem in barrel break-in, copper.
Regards, Bingo,,, Outdoor Specialties.

Subj:I used it in prairie dog town!
Date:5/7/2003 4:53:15 PM Central Daylight Time
From:t-martin9@ti.com
Sent from the Internet (Details)
Paul, Thanks for wipe out. You took a long time getting me my order but I have used it
and blessed it off and actually love it. I now need at least a case of the stuff for friends.
I sure wished I had a case to show everyone at the 3rd Annual Lone Star Shoot out here
in TX this weekend. I've used your product since early this year but have only really gotten
to use it correctly on a recent prairie dog hunt where I was shot over 1000 rounds in a
weekend in 6 custom guns. It is nice stuff!
Give me a call when you get some free time. I look forward to hear from you again.
Tom Martin
972-995-3718
bj:re: Wipe-Out Article
Date:6/3/2003 9:23:58 AM Central Daylight Time
From:carroll@sierrabullets.com
To:SHARPSHOOTR
Sent from the Internet (Details)
Terry, I put a bore guide in that has an O ring that seals around the chamber. Then I spray it
in from the muzzle end and the second it starts to come out the end of the bore guide,
I put my finger over it and hold it until the pressure goes down, keeping a paper towel handy
to wipe any off that oozes out. I can just lay a piece of plastic over the stock to keep from
getting any on it. That works best for me. It really does the job.
Carroll
Marlin Talk
Big Bore Rifles
copper fouling
profile | register | preferences | faq | search
UBBFriend: Email This Page to Someone! next newest topic | next oldest
topic
Author Topic: copper fouling
gspointer
Member posted 02-09-2003 12:00 AM
Hello everyone. I am wondering if any of you have experienced what I am presently experiencing? I have a new
.450 Marlin ported Guide Gun. I shoot every weekend and I clean every weekend. I'm shooting mostly jacketed
bullets(approx. 600 to date). The last few times I cleaned the bore I have not been able to get out some copper
streaks inside the barrel just in front of the ports. I have tried some different cleaners and still no luck. I still have
excellent accuracy. Do I need to worry about this? Any suggestions??? Thanks.
gspointer
——————
IP: Logged
444nut
Member posted 02-09-2003 04:43 PM
gspointer, GET yourself some WIPE-OUT. You can get through Cabelas.
IT WILL GET RID OF THE COPPER. IT is the best going . Just follow their directions.
444
—————–
IP: Logged
REL7
Member posted 02-09-2003 06:06 PM
Do a search using the phrase "Wipe-out". There are many posts about it, including one
that i (an ordinary shooter)did in early to mid-december.
It goes into detail about cleaning. Thus far "wipe-out" is the most painless way that
i've tried to get all the copper out.
——————
IP: Logged
444nut
Member posted 02-09-2003 06:58 PM
You can go to www.sharpshootr.com scroll down & click on WIPE-OUT
444
—————–
IP: Logged
gspointer
Member posted 02-09-2003 07:12 PM
Looks like I should try "Wipe Out". Thanks Guys!!
——————
I'm one of those guys that insists the bore be absolutely CLEAN prior to placing back in the vault. Tried all the various
touted cleaners and scrubbed 'til my arms developed better than on the weight bench. Ordered the aforementioned
"WipeOut" from the mfg'r and tried it on a couple of rifles that were pristine clean according to previously used methods
and visual indications. Lo, and behold – there was still traces of copper fouling in the cleaning patch! A couple of overnight
soakings with the product (mfg'r says it's safe to do so) and the patches are now clean. Think I'll stock up of this stuff!!
——————
Keep off the Ridgeline!
IP: Logged
S.A.S.S. #43134
Member posted 02-09-2003 10:59 PM
quote:
Originally posted by gspointer:
Looks like I should try "Wipe Out". Thanks Guys!!
You know, I think you should try "Wipe Out"!
IP: Logged
SFT, SASS#35973
Member posted 02-10-2003 01:13 AM
Wipe-Out works very well for me, and
I am always surprised at how easy it is to clean my guns with it. Thumbs up!
——————
IP: Logged
All times are ET (US)next newest topic | next oldest topic
Administrative Options: Close Topic | Archive/Move | Delete Topic
Hop to: Select a Forum or ArchiveList of Forums:336 Lever Action
RiflesBig Bore RiflesCowboy RiflesRimfire RiflesH&R/NEF TalkMarlin
Collectors CornerH&R/NEF Collectors CornerMiscellaneous Marlin
TalkMarlin Talk SupportOutdoors ExperiencesList of Archives:Marlin Talk
– How To Contact Us | Marlin Firearms Ultimate Bulletin Board 5.47d
Subj: Wipe Out
Date: 7/22/02 1:09:52 PM Central Daylight Time
gwhite@fingerlakescomm.com
Sent from the Internet (Details)
I ordered Your Product directly from you & I don`t know how I ever got my guns clean!!!
Wipe out is the best & easiest product I ever used.
It does everything you said it would do.
I`m going to have my local gun dealer contact you so he can become a dealer for your products.
his name is George Warren, he owns the Fur Shed @2744 Trompley Rd Weedsport NY
phone#315 834 9474
Thanks again Glenn White
From:jdhawg@tcsn.net
To:SHARPSHOOTRS
Sent from the Internet (Details)
Terry, I received the 3 cans of Wipeout bore cleaner you sent me. This stuff is absolutely awesome.
I followed your instructions and put it into a rifle that I thought was clean. The first dry patch I through the bore,
after letting the rifle sit for only a half hour with Wipeout in it, was deep blue.
And I absolutely had scrubbed the bore down with an ammonia based cleaner.
Needless to say this product deserves the raves I've heard about it on the website I read about it on.
(accuratereloading.com). thanks for an outstanding product and the end of all the work it used to take to clean
my guns.
Jim Dyck
—– Original Message —–
Subj:Re: Wipe Out
Date:8/6/2003 8:31:51 AM Central Daylight Time
From:Sakonut@cs.com
To:SHARPSHOOTRS
Terry – Thanks for the note. With shipping, that does make 1 can a little pricey, that is why I asked for a local dealer identity. I shoot two 6ppc's in IBS benchrest competition. Wipeout has received some attention on benchrest.com and the webmaster Wilbur Harris reported it to be a very good product sometime ago. And, of course, Dick Wright gave it a plug in "Precision Shooting" couple of months ago.
I think it might be a little too pricey for the average deer hunter , who may clean his rifle once a year. But once its reputation becomes known, it would skyrocket in sales. Benchrest is an expensive hobby, but most of us are willing to spend a little more for quality. I suggest you start there. Advertise on benchrest.com and continue the Precision Shooting ads. There are some good BR supply catalogs out now. The only local BR retail outlet in my area (and it is 60 miles north) is R. W. Hart & Sons (www.rwhart.com), phone 570-752-3655. A very good store doing a high volume of business even closer to me is Trop's Gun Store, Rheems, PA, phone 717-367-5585. I have met the owner, but forget his name. At any given time, he has 6 – 10 employees working in the store. They have an extensive inventory of reloading supplies, and gun cleaning products. In fact, I am stopping there tomorrow. I have been involved with competitive shooting and reloading for almost 50 yrs., and was a licensed dealer at one time. I reload 27 rifle calibers, as well as 3 shotgun chambers. Am not much on handguns.
Another good retail outlet is Grice's Guns in Clearfield, PA (about 120 miles from me); and I suppose you are familiar with Sinclair, Kinneman's, Russ Haydon, Brownell's, Midway, Champion's Choice, etc. as good BR sources. I purchase various items from all of them.
But I do believe you would be wise to begin with benchrest.com, and benchrest shooters if you would like to see sales of this product take off. I would love to purchase Wipeout in a local store, if they would have it in stock. Good luck, Gene Failor, 3280 Enola Rd., Carlisle, PA 17013 717-243-5286
SHARPSHOOTR
Last Saturday, October 11th, 2003, Mike Pack "loaned " me a can of WIPE OUT foam cleaner, and I am still waiting
on my order.
My wife has a custom built 257 Weatherby, by Jim Cloward, built on a Pre 64 Model 70 Winchester.
This is my wife's rifle and is her pride and joy.   From day one of being built we have shot nothing but Barnes XLC 100 grain
bullets (blue moly coated) and the Barnes 90 grain Solids through it, first at high velocity, then tamed down so as to not
burn the throat out.   Solid hole groups are not uncommon in this rifle, its a shooter. 
The night before going to AFRICA I went to the range and shot the rifle again, just to make sure……then reloaded
those empty cartridges for the trip.   I cleaned the barrel as usual and habitually with the Barnes X-10 cleaner solution. 
The gun shot okay, but not perfectly as usual.   I thought that it was my shooting… with the excitement building for the
upcoming morning trip this was understandable.

After arriving in Windhoek, Namibia we went to the hunting camp that night.  The next morning saw us checking rifles
to make sure they weren't askew from the trip.  The rifle wouldn't hit the target at 50/60 yards….and with no idea as
to where it was targeting.   In camp, we changed scopes, checked the rings and bases, and still no idea of what was going
on.   Luckily my buddy brought along a spare rifle, a Browning A Bolt 300 Win Mag which Sandy used exclusively to take
all her 8 trophies, one shot each.  Proud of her.
After arriving home I removed bullets, checked weighed dispensed powder charges.
Checked the concentricity, the primers, primer pockets, cartridge trimmed OAL, loaded OAL…everything I could think
of really.  Since this trip I have not found the reason for it shooting this way.   I have changed scopes 6 times, ranging
from a Leupold 40X to a Zeiss 3 x 9…..and everything in between.   I've changed mounts twice, bought factory ammo,
as well as changed bullet  brands and weight varieties, primers and load descriptions for this caliber to no avail.
Enter Mike Pack with a can of WIPE OUT, at a SCI party.   He had told me about this product he had found…so we tested
this compound on a chamber and section of rifle barrel cut off three inches ahead of the throat and then split in half for
examination.   I had this section cut for my own self examination, to visually see what it looked like inside.  The rifling was
heavily coated with brass coloring and dirty.  One hour after application, in the trunk of my Altima, the first application
was removed, but the brass coloring was still visible, but brighter in appearance.    I applied it again and waited until morning
to remove the application…….when I did all of the discoloring came off…clean as a whistle.   I have since given this section
away……but still have the exact opposite uncleaned chamber/barrel half.
I am now on the 10th application,  removing and reapplying when I get a chance or think of it,  of WIPE OUT,  on my
wifes 257 Weatherby.    I am still removing/pushing  a solid beautiful blue colored liquid out of the barrel ahead of the
first patch on my Dewey cleaning rod.  On the second patch I am retrieving a black colored patch with some blue coloring
as well.    Now you might say that I never cleaned the barrel after every use……to say the least I am very anal about
cleaning.  I have never sat down and split a complete barrel and tested WIPE OUT against any other cleaning compounds.  
I don't think I would know where to begin to be that scientific,  but I have never seen any cleaning compound remove
as much as this compound is doing.   You might say that I wasn't cleaning correctly, but it is doubtful.
The proof in the quality of  cleaning will be after I finish cleaning this barrel…..how long it will take I do not know.
But I will let you know about whether or not it regains its accuracy or not.    My first thought was to re-barrel and be
done with it.     One thing for sure….my wife told me to fix the problem or go to a new barrel as she wants her rifle back.
If this doesn't work I will re-barrel……and if I do I will cut and split this barrel into sections and do my own product cleaning
test, sure it won't be scientific or controlled…..but I'll know what works.
What kind of common/uncommon knowledge is there as to the amount of copper impregnation in all barrels that cannot
be removed through cleaning.   What I am asking is……what is an acceptable level of copper surfacing impregnation that
does not normally get removed by cleaning.   Does your product remove it all? (YES WE REMOVE IT ALL)
Please Email me with info on my order…….I have a lot more rifles to clean.
JOHN O. "BUZZI" COOK III
47009 SE 153rd ST
NORTH BEND, WA  98045-9247
425-831-6273..B
425-831-6276..F
425-785-3155..C
olytax@aol.com
(FOOTNOTE* We removed all the copper on the next two applications…….but unfortunately the barrel was shot out, and had to be replaced.)
Date: 5/7/02 9:21:25 AM Central Daylight Time
From: Budiceale@aol.com
Sent from the Internet (Details)
hello mr. paul. remember me, budiceale? yesterday i went to elk castle gun shop (in fort worth texas) and bought a can
of wipe out. i think it's the best gun cleaning product i have ever used. i told you when i talked to you on the phone the
other day that i would talk to the people at alpine shooting range about starting to carry this stuff. i called them today
but the boss(david smith) wasn't there and won't be back until tomorrow. i'll try again then. if i can get them to start
carrying wipe out it will cut the distance i have to drive to get it from 40 miles to about 20 miles. i'm going to need a
bunch of this stuff because i have 40 guns and all of them probably have years of copper and carbon in the barrels, so
halving to distance i have to go will help me a great deal. when i talk to david smith i'll give him your phone number
(785-883-4444) and your email please let me know if this number and address are the ones you want me to give him.
thanks for your time and thanks for a great product…..bruce mehaffey
To: SHARPSHOOTRS
Date 5/7./02 11:14:31 AM Central Daylight Time
Sent from the Internet (Details)
Terry,
Your product is excellent. It cleans guns as you well know that us shooters thought were already clean. Lots of blue patches
the first couple of cleanings. My only problem with your product was using to much. Need to get used to the 2 count you
recommend, otherwise it just shoots back out the barrel.
Thanks
Byron Sheets
Date: 5/6/02 3:05:55 PM Central Daylight Time
John.Frazer@nrahq.org
To: SHARPSHOOTRS
Sent from the Internet (Details)
Subj: i tried wipe out.
I tried it experimentally on an old, shot-out, non-chrome-lined AR-15 barrel — not currently mounted (and never again
will be mounted) on a rifle. It worked but took a couple overnight applications. (This barrel had many thousands of rounds
through it and probably was never  cleaned with anything but Break-Free.) The tricky part was getting it into the barrel
I ended up using a flexible soda straw through the chamber since I obviously couldn't seal the nozzle on the flash suppressor.
I tried it on a .270 that fouls moderately but usually comes clean with Butch's Bore Shine and some elbow grease.
It worked as advertised with one overnight application plus another 30 minute app.
The tricky part again was getting it into the barrel. After several false starts, I found I had to reverse the nozzle and
press the rim of the skinny end directly against the muzzle, HARD– any letup and the foam would follow the path of
least resistance out onto my bench. After the second application the patch had a little dark grey fouling, no sign of
copper with a bore light inspection. It seems as if it would be easier to apply in a larger-caliber barrel with a larger
outside diameter. My #1 suggestion would be maybe a couple different-size nozzles to work in different guns.
For instance, the .270 has a light sporter weight barrel (maybe .500-.550 at the muzzle), and I think a longer, narrower
cone would be easier to use.
Will probably try it this weekend on a pair of .30-06es that foul truly horribly.
Beats the heck out of the Foul Out III.
Thanks!
John
Date: 5/5/02 4:40:42 PM Central Daylight Time
jkstowe@fidalgo.net
To: SHARPSHOOTRS
Sent from the Internet (Details)
Terry,
I used your Wipe Out on a recent squirrel shoot and was quite impressed. I used it on 2 .17 Rems, 2 .223s, a 220 Swift,
a .375H&H and a .416 Rigby. All rifles cleaned up well, especially the .17s and 220. I LOVE the no brush cleaning method!!!
I will be ordering some more of your product soon 🙂
I will also mention Wipe Out to Ron and Don Kesselring of Kesselring Gunshop up here. They do
a BIG business (biggest in the Northwest) and I will see about them carrying your product.
John Stowe
Date: 5/5/02 9:48:35 PM Central Daylight Time
From: mdbeijs@telusplanet.net
To: SHARPSHOOTRS
Sent from the Internet (Details)
Terry so far I find it absolutely the best ,I used it on 3 guns so far a 7 a 375 and a 416Rigby The 7 has a smooth barrel
and came clean right away the 375 has tool marks in it ,3 applications 1 hour in-between and the Rigby took about 5.
In the Rigby I shoot Barnes and they foul badly it has shallow rifling and I always had to do a lot of brushing and I always
was concerned about the rifling no longer so This is as far as I got the dam. weather bogs me down 18 deg F snowing
like there is no tomorrow 18″ today and going strong.
The drawback if you can call it that is that for us Canadians it is fairly expensive the 3 can's I got from you ended up
costing $70 Can.
If nothing else I will just use it on certain guns. I mostly shoot big bores and a can don't last that long. Had some problems
with spilling so now I use rubber or plastic hose that fit's the chamber nice and tight and fill the bore from the chamber
side it takes some playing to find out how to not overfill.
Anyway great product would not be without it anymore.
Regards Martin
PS I don't know if you know but on the gun talk forum accurate arms there is lots of peopletesting your product
This is the page http://www.serveroptions.com/ubb/Forum16/HTML/001310.html
This is the site http://www.serveroptions.com/cgi-bin/ubbcgi/Ultimate.cgi?action=intro&BypassCookie=true
Date: 5/5/02 11:46:03 PM Central Daylight Time
kyakerab@hotmail.com
To: SHARPSHOOTRS
Sent from the Internet (Details)
Dear Mr. Paul,
Your product, Wipe-Out, is great! I will see if I can't get a dealer nearby to carry it, otherwise order from you.
I won't be without it if I can help it. Spread the word I shall. Thanks.
Best Regards,
Ronald A. Berry
Subj: WIPEOUT
Date: 5/4/02 10:08:02 PM Central Daylight Time
From: Squaredeal7@aol.com
Sent from the Internet (Details)
Mr. Paul, I ordered your product several weeks ago,and upon receiving it I read the instructions carefully and proceeded
to follow them to the letter. As you state, repeated applications till the patch comes out clean, will provide proper cleaning
It took 7 full applications to achieve that in my rifle. I consider myself very diligent in caring/cleaning of my firearms
but believe this is the cleanest that bore has been since 1917. I shoot an Eddystone Enfield that I sporterized in 1969
and always had good accuracy(M.O.A. or better) until I used WIPEOUT. I just got back from the range and am amazed
at the increase in accuracy of this rifle. I shoot factory FederalClassic,150 gr.High Shock loads ( that seems to be what
this gun likes best)and the first 5 at 100 yds. could be covered by a nickel. The next 5 at 200yds. measuered 1 3/4 inch.
I shot a total of 40 rds. at 100 and 200, using WIPEOUT every 10 rounds, And never shot over 3/4 M.O.A. at 100 or over
M.O.A.at 200. You have an outstanding product, I will use it forever and recommend it to everyone.
Terrific Website, and reminder to all that we must vote and educate everyone.
Steve Warner
Subj: Wipe Out
Date: 4/30/02 7:39:50 PM Central Daylight Time
From: whoopi@netpathway.com
Sent from the Internet (Details)
Greetings,
I ordered some Wipe Out and Flush Out about 10 days ago. Received the product, Promptly I might add.
Got a chance to use the Wipe out, and guess what, My buddys have just about relieved me of it.
I am very impressed with your product. Over the weekend I probably cleaned 50 rifles with the Wipe Out.
Some of these guns haven't been this clean since they were new. Now I'm not one to let a rifle barrel stay dirty.
But The Wipe out is amazing !!!!! I HAVE THROWN ALL OF MY RIFLE BRUSHES AWAY,
Thanks to your product.
If you get a chance go AccurateReoading.Com.——
Either in the Gunsmithing or the Reloading Forum, And you can get a little feedback on Wipe Out.
If you haven't already, GET READY to START FILLING A LOT OF ORDERS.
Now, I would like to place another order !!!!
5– Wipe Out ( WOA-510 )
3– Slicker 14oz.( W SL-140 )
3– MAXX Aerosol ( MAX-140 )
This would be a COD. order. Please ship to :
Perry Baygents
3869 hwy 63
Waynesboro, Miss. 39367
Thanks again, For a product that actually works
Now I can again shoot BARNES BULLETS, without all the hassle of cleaning rifle barrels.
SHARPSHOOTRS
I just tried this  at the recommendation of a friend.  AMAZING!  Used it on my 1943 M-1 Garand, that I had usedSweets, Barnes, Shooters Choice, JB Paste, and even a homeade concoction of Hoppes/Kroil  (varminters sauce).
I thought the bore was clean, as my patches were clean.  After this  stuff sat in the bore a day and a half, my first patch
came out blue!  Afetr the patches came clean, I used a bore light, and was nearly "blinded" by the shiny new looking
(60 year old ) bore!!!  I work in a gun shop,  and will talk to the owner about carrying wipe out, as I am convinced it is
the best bore cleaner, (and easiest), that I've ever used.
Please contact me with some info, that I can pass on to my boss, maybe I'll get some BROWNIE points.
            9466 W. Utah Ave.
           Lakewood, Colorado
                  80232                   (303) 989-8907
"Anyone who is not a liberal in his youth, has no heart.  Anyone who remains so, as he matures, has no brain"    Sir Winston Churchill
Subj: RE: Wipe-out
Date: 5/11/02 11:07:13 AM Central Daylight Time

From: gptrent@itsyscon.com
To: SHARPSHOOTRS
Sent from the Internet (Details)
Mr. Paul
It seems that the area I am having a difficult time getting is that last 1 – 2 inches of the muzzle. I may be wrong but that
it my impression.
I will tell you that I cleaned a .308 that we had never been able to get really clean. The owner named this rifle
"Filthy Mc Dirty" because he could not get it clean. This rifle has had at least four thousand rounds through it.
I used Wipe-Out on it and after a single 24 hour session and about 4 – 5 two hour sessions it was clean!
Thanks
Paul
E: ORDER
Date: 7/23/02 12:16:39 PM Central Daylight Time
From: steveh@gkfremontlaw.com
To: SHARPSHOOTRS@aol.com
Sent from the Internet (Details)
Terry:
Thanks for shipping the Wipe-out so promptly. So far I have just used Wipe-out on one of my rifles — a lever action
Marlin 1895 CB in .45-70. It worked just fine on that rifle. The gun had a bit of fouling in it, so I filled up the bore with
the Wipe-Out a couple of times over a 24-hour period to get the fouling out. The copper fouling dissolved and came out
with no trouble. The powder residue (which appeared black) did  dissolve quite as easily. After filling up the bore those
two times, the black residue was still coming out on the patches that I pushed through the bore with a cleaning jag.
It appeared to be a little sticky. (Maybe the residue gets sticky when the Wipe-out dries out in the bore a bit.)
I was afraid I was going to have to brush the bore to get it out, but after I filled up the bore a third time with it,
and then pushed a couple of lightly-oiled patches through, all the black stuff seemed to have come out .
So far, the Wipe-out seems to be a genuine advance over the products requiring a lot of brushing, and over the products
which can etch the bore. I will use it next on my badly copper-fouled 30-30, on my Model 70 .300 Win Mag, and on my
older Model 70 .30-06. If it cleans all those well without the use of a brush, I will be convinced.
Steve Heller
William_E_Tibbe
member
Reged: 06/07/02
Posts: 119
Wipe Out critical evaluation.
07/27/02 09:26 AM Edit Reply
The relatively new product Wipe Out was ordered in June. Due to the supplier losing the order, I had to reorder and
received it a couple of days ago.
Pauls company, by way of excuse, E-mailed saying they were really "behind the 8 ball with orders".
That was supposed to mean that they were swamped!
I used the WipeOut on a 1953 Mauser 25-06 that is still in excellent condition and hasn't had an excessive number of
rounds fired over it's life.
The rifle was diligently cleaned previously with:
#1. Hoppe's Benchrest 9 copper solvent.
#2. Barnes CS 10
#3. Sweet's 7.62 slovent
#4. JB non-embedding bore cleaner.
I applied the Wipe Out as per instruction after setting the rifle up in an Uncle Mikes butterfly sand bag to hold it steady.
I lowered the muzzle about 5 degrees and placed a plastic bag lined waste paper basket under the muzzle to catch drippings
( of which there were none ). I inserted a bore guide in the chamber and squirted the Wipe Out in.
*NOTE: I covered the stock with a thin plastic :supermarket" bag to protect the finish from the Wipe Out which will
eat some finishes.  This gun has an oil finish that I wanted to protect.
*NOTE. I perforated a sponge ear plug with a darning needle and pushed it onto the nozzle of the Wipe Out spray can.
That effected a good seal. It has a tendency to "stall" or refuse when the barrel is full.
A second squirt results in "kickback" discharging the Wipe-Out back out around the cans nozzle.
The stuff needs to be used SPARINGLY since as much as 1/2 will be wasted with excessive injection.
It takes very little to fill the barrel.
I waited 20 minutes then swabbed the barrel, one time, one direction, chamber to muzzle, with a cotton patch followed
by a cotton ball ( of the type the women use with cosmetics ). They both came out with blue staining!!!
I reinjected and waited one hour. More blue staining more intense in color. I repeated it 3 more times waiting 1 hour to
1 1/2 hours ( total of 5 times ) and only on the 5th time did I get a fairly clean swab without blue but with some gray coloring.
The blue staining means copper but it doesn't quantify it. How much copper?
In an effort to find out I took a copper penny and weighed it. It weighed out at 38.4 grains on my powder scale.
Then I coated the penny on both sides with Wipe Out and waited until it broke down which took about 15 minutes.
The liquid began to evaporate so I wiped the penny with a Kleenex tissue and weighed it.
It appears to have lose 1/10 grain. I repeated the process and it lost about another 1/10 grain more or less.
*( It is not precise enough to ascertain the exact weight in sub 1/10 grain amounts ).
In order to quantify the volume of copper that was removed I dropped one particle of IMR 4350 stick powder on the
scale and it raised the weight very roughly 1/10 grain. I dropped another on and the weight increased again very
approximately 1/10 grain. That is the assumed amount of copper removed from the penny.
It apparently isn't possible to correlate the amount of copper removed from the barrel from color comparison but the
color of the cotton patch and cotton swab on the first barrel cleaning was very similar in intensity and amount to that
of the swabbing from the copper penny. After having cleaned the barrel with all four of the above mentioned products,
the Wipe Out took out "A LOT" more copper.
Conclusions:
1. Wipe Out seems to perform as advertised.
2. When a barrel seems to be clean using other products, it is NOT totally clean.
I have loaded some rounds that I shot previously and that were giving excellent sub-MOA accuracy. The next step is
to shoot these at the range and see if the barrel has come back to it's original accuracy.
Bill Tibbe
Post Extras:
kraky
enthusiast
Reged: 04/01/01
Posts: 321
Loc: medford wi usa
Re: Wipe Out critical evaluation. [re: William_E_Tibbe] 07/27/02 10:26 AM Edit Reply
Interesting thing I found…….I've tried the wipeout on a couple of barrels. The first was a slightly fouled rem 700 25-06.
It took 3 applications to get it clean. I wasn't impressed….THEN I pulled out a really fouled .257 wby–guess what it…it
came clean in one application. So maybe all copper is pretty much the same but the way it sticks to a barrel pretty much
is related to the barrel and how smooth it is. ANYHOW SO FAR I LOVE THE STUFF. I can take three guns to the range,,
lay them flat on the top of my freezer, give 'em a shot and go watch tv.
Come back a while later and plunge them out.
ALL in all time spent at the cleaning cradle is about 1/3 what it used to be YIPPEE!!
William_E_Tibbe
member
Follow up on Wipe Out:
I shot the 26-06 Mauser that had been thoroughly cleaned with Wipe Out using 51 grains of IMR 4350 and a
Sierra 100 grain bullet. The first two shots were about 1 1/2″ too high. The next three grouped 1/2″ wide x 3/4″ high.
I laid a penny on the group and all of the three holes edges touched the penny. The horizontal ( windage ) alignment was
right dead center on the "X " the official NRA military type target.
I am not exactly sure as to what to call the two initial shots but there are two terms:1. Fouling shot 2. Flier.
The barrel was cool to the touch on the first two shots but heated up on the next three although I gave is a few minutes
to cool down.
On the same trip I took my Ruger Model 77 Mark II .338 Winchester Magnum along and shot it.
I had loaded the French GPA all copper hollow point bullets 213 grain, using 66 grains of IMR 4350.
The first shot was 1 1/2″ high and 1″ to the left. The next three shots were as follows #1. 3/8″ above the "X"
( dead center) and 1/8″ to the left. #2 and #3 were both touching ( straddling ) the "X" ring and 10 ring circle
*( That is 1/2 in the "X" ring. The group was 3/4″ x 3/4″ at 100 yards. I laid a penny on the group and all three bullet
holes touched the penny. It can be noted that the powder/load/bullet combination was from " scratch" never before loaded.
It was a "first".
Both rifled acted in a similar fashion. The first and or second shots were a little high. Then subsequent shots grouped
very acceptably for a hunting rifle ( sub MOA ). That seems to indicate that on the initial shot or two, when hunting,
the point of impact should be held a littel bit low ( 1″to 2″ ) then subsequent shots can be held basically "on".
There isn't much room to complain about the performance of either rifle. But a little more refinement may result in
some smaller groups.
Bill Tibbe
Ken Cline
One Of Us
Member # 6178
posted 03-27-2002 08:15
——————————————————————————–
I just got mine delivered to me today. I tried it in one rifle that had bad "copper painting" in the last 2 inches of the
barrel by the muzzle. After 2 applications, all the copper was gone!! I had tried other solvents, but was not getting
very far. I'm sure if I would have let it sit longer (like the directions say) I could have got it all in one application.
The next rifle I try it in, I am going to leave it in the barrel overnight, and see what happens.
This is what they suggest for badly fouled barrels, or for barrels that you do not know how much fouling is in them.
The good thing with this is- it will not harm your barrel, bluing, or health. It actually contains a rust inhibitor, and does
not attack the steel like ammonia.
I also ordered the Flush-out degreaser and Slicker.
I really like the Slicker lube as well.
It sprays on as a light penetrating oil, then dries to a lightweight grease.
Congratulations to these guys for making great products!!!!!
pertinax
One Of Us
Member # 6484
posted 03-31-2002 19:41
——————————————————————————–
I ordered some of this product last week, based on the second round of "thumbs up". It hadn't yet arrived when I
discovered it on the shelf of my local gun store. So I bought a can and tried it yesterday.
I'd been following this thread closely because I have a "tiger stripe" barrel on a new gun.
Black grooves; orange lands. So much for not following the correct break in procedure!
Anyway, I've spent a week and a half with Hoppe's copper remover, and Shooter's Choice, and a brush, and I
just couldn't make any progress on the copper. That bore soaked for at least a week, and I couldn't see any difference.
Lots of green on the patches, but the bore still was nice and coppery.
Wipe-Out fixed it. I let the first application sit for four hours. (OK, I'm impatient. So shoot me.)
Patch came out bright blue. So I applied it again, and went to bed. This morning, the patch was totally clean.
I'm blown away. Got three more guns working as I type…….almost makes you feel guilty!
Like others, I've had trouble getting enough Wipe-Out in the barrel without making a big mess, with it dripping
all around the can and muzzle. I don't care though; the product is much cheaper than elbow grease!!!
And the mess isn't all that bad. Do expect drips out of the muzzle and possibly chamber though.  But the good news is that
I know that Wipe-Out can't set up into a solid glue……..that isn't true of some other stuff out there.
Breaking in a barrel (right) will be unbelievably easy with this stuff.
Big thumbs up everybody, this stuff works!!!
Pertinax
470 Mbogo
One Of Us
Member # 8257
posted 03-09-2002 09:32
——————————————————————————–
I've never looked forward to cleaning guns but carried on anyhow out of necessity. I just tried a barrel cleaning product
that is a spray in foam and was very impressed with the results. It takes out copper etc without any odour.
Spray it in wait ten minutes and dry patch it out. One gun was fouled quite heavily with copper and it was just a matter
of leaving it in for a longer period, patching it out and if color still showed just spray it in again. They have a website along
with some other lube and cleaning product for firearms at www.paulcousa.com.
It sure makes life easier for the drab job.
470 Mbogo
Kentucky Nimrod
One Of Us
Member # 7366
posted 04-17-2002 15:16
——————————————————————————–
OK, I was sceptical. Now I'm a believer. I cleaned nine rifles and all I needed was a patch and a jag.
It really does dissolve everything…and I mean everything.
On my .22 centerfires it only took about a second to fill the bore but my 375 and 416…well lets just say a little longer.
And like .470 I had some difficulty with the plastic cone and rifles with barrel band front sights…it was awkward but
do-able. No what am I going to do with all those brushes and bottles of shooters choice and sweets?
——————————————————————————–
Posts: 106 | From: Kentucky | Registered: Feb 2002 | IP: Logged
Harry
One Of Us
Member # 608
posted 04-19-2002 07:45
——————————————————————————–
I am a dealer for this fine product (and I thought my Sako 222 Mag was clean…WRONG!)
I have Wipe Out in stock as well as Flush Out.
$11.99 for Wipe Out and $8.99 for Flush Out (degraser etc.)
I ship UPS.
Let me know if I may be of help.
I have Tuffpaks in stock too.
www.hunters-hq.com
——————————————————————————–
Posts: 391 | From: Bedford, TX USA
Kanatak
One Of Us
Member # 7930
posted 04-19-2002 17:19
——————————————————————————–
After reading these posts, I couldn't resist trying this product on a relatively new Dakota Safari 375 H&H
(about 100 rounds fired). Here are my observations.
Sprayed the Wipe-Out from the breach using a bore guide (without solvent reservoir).
Absolutely no mess and no residue in the action. The excess Wipe-Out was neatly pushed out the end of the barrel.
First application was left in barrel 2 hours and using a patch and jag, found no blue residue.
However the "tiger stripes" at the end of the bore were eliminated. There was obviously some residual copper fouling
but not enough to cause the tell-tale bluing effect.
My usual cleaning regimen with Sweet's 7.62, and J-B, had probably kept the copper fouling under control.
However I was never able to eliminate the highly visible "tiger stripes" until I used this product.
I was impressed with the product's ease of use and will continue to experiment with it on my other rifles.
I think we have a winner here. Noting the difficulty some users had with excess Wipe-Out in the action,
I recommend trying the bore guide method as I found it to be very clean way to use it.
——————————————————————————–
Posts: 25 | From: Atlanta, Georgia, USA
Atkinson
One Of Us
Member # 90
posted 04-23-2002 03:49
——————————————————————————–
At the advise of M'Bogo I went out and bought some wipe out as it appears that I was using a product called
XXXXXX (product name Xed out) and it is also a shaving cream, I was not impressed with it…the other stuff sets up like
epoxy.
The wipe out is very good indeed, so be careful all that stuff is not the same…..I have had some checkered experience with a similar product.
——————
Ray Atkinson
ray@atkinsonhunting.com
atkinsonhunting.com
Canuck
Forum Leader
Member # 29
posted 04-28-2002 01:39
——————————————————————————–
Well, I have almost finished off my first can. It didn't last 100 cleanings, but it sure cleaned the crap out of all my rifles.
I am sold on it. It cleaned bores that I have never been able to clean with thoroughly with other standard cleaning solutions.
FYI though, I only got about 50 cleanings out of a can. I might have gotten 70 if I was a little less wasteful.
Canuck
Holmes
One Of Us
Member # 64
posted 04-28-2002 08:16
——————————————————————————–
I finally received my product from these folks. Damn, took nearly four weeks.
I had a 25.06 ready and waiting to test. The rifle had been cleaned thoroughly and there was no visible copper fouling
nor did Sweets or Butchs indicate presence of the same.
Applied the Wipe Out, let sit overnight, and pushed a tight one through which came out mildly blue! I had scrubbed the
hell out of this rifle! The fouling was minimal and a second 10 minute application yielded a clean patch.
My beloved and often used .375 was next. It had received a "standard" cleaning.
Same overnight test resulted in an extemely blue patch. Two more 10-15 minute applications took care of that.
My .458 is soaking right now. It's a notorious copper fouler, so it will also be a good test.
I am tracking the number and calibre of filled barrels. (Not the number of rifles cleaned.) \
It will be interesting to see how far it will go.
Overall, I must admit to being impressed with the product.
Haven't tried the Flush Out or the Slicker yet, but will soon.
I am ordering more Wipe Out now so it will arrive before this can runs out!
Regards,
~Holmes
Need Just 1 More Gun
One Of Us
Member # 7829
posted 04-29-2002 00:07
——————————————————————————–
I got my two cans on Friday and went to work.
After covering my garage in Wipe-Out, I finally figured out that a light tap on the button will fill up most of a 30-06
barrel, and you can just barely depress the button, and let it "splutter" until full if you didn't get the barrel full the
first time. The "spluttering method worked fine to fill a Blackhawk 7 1/2 barrel without wasting the stuff.
Here's a tip for usage–try it out and let me know if it worked for you.
The plastic cone is too stiff to really seal the barrel, so I reasoned that a gasket is needed. I poked a hole in a 1 3/4#
square patch and put it over the spray nozzle inside the cone. This worked great for barrels where the fat end of the
cone will fit over the muzzle.
For larger calibers, reverse the cone on the can and poke a slightly larger hole on the patch.
Put the patch over the cone so that it will perform as a gasket between the bore and the can.
I had zero problems with leakage by using the patch as a gasket.
Somebody try it out and let me know if this "gasket" thing works for you. I will try to post some pictures later.
Oh yeah, I like the stuff too.
I know the next rifle will be perfect…….
Posts: 125 | From: Houston, TX

Availability of this article is by permission of Dave Brennan, editor 'Precision Shooting"
and by permission of the author, Dave Scott.