We proudly offer FLUSH-OUT™ in 2 versions
#1. REGULAR FLUSH-OUT IS PETROLEUM BASED
#2. NATURAL CITRUS FLUSH-OUT IS 100% PETROLEUM FREE
NOW AVAILABLE IN TWO GREAT PRODUCTS
REGULAR FLUSH-OUT
HEAVY DUTY CLEANER DEGREASER
WFA-180 FLUSH-OUT CLEANER /DEGREASER 18 OZ Can

FLUSH-OUT™ was formulated especially for use in firearms with several criteria in mind.
1. USER SAFETY (skin contact, inhalation, eye contact.)
2. CLEANING & DEGREASING PROPERTIES
3. FLAMMABILITY ……..FLUSH-OUT™ IS TOTALLY NON-FLAMMABLE.
4. CONTROLLED DRYING TIME (FLUSH-OUT™DOES NOT FLASH DRY, BUT DRIES IN ABOUT TWO MINUTES, REMAINING LIQUID LONGER ALLOWS A MORE COMPLETE FLUSHING ACTION.)
FLUSH-OUT™ solves problems associated with most aerosol cleaner degreasers. The vast majority of aerosol cleaner degreasers on the market contain "tri"-chlorinated solvents which can be very dangerous for anyone using them. The use of Tri-Chloro-Ethane (CAS #1-1-1) and Tri-chlor-ethelyne or any of the"TRI-CHLORINATED" solvents are much more dangerous to the end user. This and most of the chemicals in the related family are extremely dangerous to use. They are absorbed into the liver and kidneys through the skin upon immediate contact. Additionally they are very dangerous to inhale.
WE DO NOT USE ANY "TRI" CHLORINATED SOLVENTS IN FLUSH-OUT™
Recommended use:
CLEANING AND DEGREASING TO REMOVE DIRT, UNBURNED POWDER, CARBON RESIDUE, SMOKELESS POWDER RESIDUE, BLACK POWDER RESIDUE, GREASE, GRIT, SAND, PRIMER RESIDUE, OIL, AND WAX.
Safe to use on:
FIREARMS USING EITHER SMOKELESS OR BLACK POWDER AMMUNITION, MUZZLE LOADERS , PISTOLS, REVOLVERS, RIFLES, SHOTGUNS. EXTERNAL CHOKES, MUZZLE BRAKES, SUPPRESSORS, TRIGGER ASSEMBLIES, ACTIONS, FIRING PINS, SPRINGS, SMALL PARTS, AND BARRELS.
1: It is not necessary to disassemble most firearms to use FLUSH-OUT™. For maximum safety make sure the firearm is UNLOADED of ammunition. Optionally you may remove bolt on bolt actions and trigger assemblies on automatics before starting. Hold fire-arm in position so that the solvent runs out carrying dirt with it, being careful not to permeate any wood.
2: The extension tube may be used to spray into the action and barrel. Make sure that there is no obstruction at either end open using short blasts for best results. Repeat as necessary till all evidence of dirt and fouling is not present.
3:Be sure to insert extension tube in any other hidden areas that may hold grime and crud captive.. Use liberally
4 :FLUSH-OUT™ is non-corrosive and leaves no residue. Apply a light coating of Maxx. ™ lubricant on all moving parts and the exterior of the firearm.
Recommended Uses: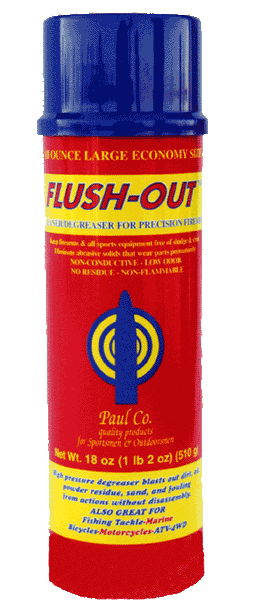 Recommended use: Fishing reels, Marine cables, Bearing Grease cups, Trailer connections, Outboard motors, Trolling motors, Marine electrical connections.
1: Use FLUSH-OUT ™ liberally to all stationary and moving parts that may hold grime and crud captive. Allow a short period of time (usually about 30 seconds) and re-apply. Make sure that you have good drainage to flush out all congealed grease and larger grit.
2: Re-apply until there is no evidence of greasy gritty material being flushed out.
3: Apply lubricant or grease as is required by the original manufacturer.
Recommended uses: Motorcycles, Bicycles, Chain drives, Electric motors, Power tools, Generators, Electrical Contact Points, Exhaust fans, Lawn Mowers, Garden Tractors, ALL TERRAIN VEHICLES and ATV'S.
1: Make sure that all motors or engines are turned OFF before use.
2: Apply liberally to motors, chains, chain drives, drive shafts, universal joints, lock-out hubs, stationary or moving parts to flush out grime and crud.
3: FLUSH-OUT™ is safe for use on plastics, electrical wiring, and is safe for most paint and finishes.
FLUSH-OUT™ is available in an 18 ounce can.
call us for the name of the nearest DEALER or Distributor.
FOR INFORMATION AND HELP:
Refer to price list for pricing
Please check out our price list and catalog!